Hope everyone had a very Merry Christmas and enjoyed family time together.
We are still enjoying it through New Years'.
Here is the recipe for a yummy, healthy fruit salad we enjoyed Christmas Eve.
Fresh Fruit Ambrosia
Offering a nice change of pace from traditionally heavy holiday eats, Ambrosia is a fresh, clean dish perfect for cleansing the palette or finishing a meal. Plus, this easy treat can be made a day in advance to cut down on your holiday prep time.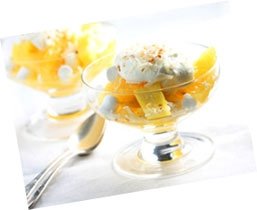 You´ll need
5 oranges, peeled and sectioned
1 pineapple, cored and diced
1 ½ cups orange juice
1/3 cup shaved coconut
1 tbsp lemon juice
Combine orange and pineapple in a large bowl and cover. Refrigerate for one hour or more. Remove, add remaining ingredients and toss until evenly mixed. Cover and refrigerate until ready to serve.
Serves 8-10
Delicious!
This would be yummy for any New Year's gatherings coming up.
Enjoy,
Claire
              Healthy Body Plan
                             Fit in your skinny Jeans.
Keep the Muscle.           Burn the Fat.         Lose the Inches.
                         *Menu Help      *Delicious Shakes
*Fitness Tips   *Team support & coaching      *Prizes